Local runner using Harrisburg Mile to 'get back to racing' after stroke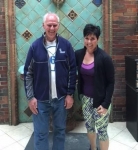 July 20, 2016
"The Mile is really for everyone, not just the fast runners, it's for people just trying to do their best, whatever they do."
By Kelly Leighton, Special to PennLive
Ivan Zook had been a dedicated runner since his mid-30s, running a marathon personal record of 2:46, a pace of 6:19 per Mile.
That changed in February 2010, when the now-68-year-old Harrisburg resident had a stroke overnight. Zook was in fine health, even running seven miles the day before, and the stroke seemingly came from out of nowhere.
He hasn't been able to run since, which has been torture to him, but Zook is planning to participate in his first race in quite a while on Wednesday, July 20 at the Harrisburg Mile. Though he once completed the event in 4:35, he hopes to finish it in 14 minutes this year.
"I really want to get back to racing. I really enjoyed running a lot and I miss it so much. I can't wait to line up and run the race and do the best I can. If I don't make 14 minutes, I'll just see what it is and I will go from there. That's what I really look forward to," he said.
Continue reading at: www.pennlive.com