Lost American Mile Masters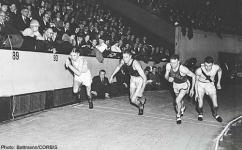 April 23, 2013
Lesser-known runners larger-than-life champions in their day
By Roger Robinson, Running Times
Name the only American middle-distance runner to win four Olympic gold medals. Which great American Miler was rejected by the New York police because of a suspect heart?
Which famous American runner once wrestled a competitor to the floor during a race?
The answer to all three questions is the same: Mel Sheppard.
Sheppard was the greatest track star of the 1908 London Olympics, winning the 1500m and 800m, both in world records, and anchoring the USA to victory with a brilliant 800m in the 1600m medley relay. At Amsterdam in 1912 he won another gold, in the 4×400m relay, and silver in the 800m. The NYPD must have wondered if they got it wrong when they rejected him because of his "enlarged heart." From New Jersey, Sheppard was huge on the thriving East Coast track circuit, setting world indoor records at 600, 880 and 1000 yards, as well as the Mile.
Continue reading at: runnersworld.com