Lost American Mile Masters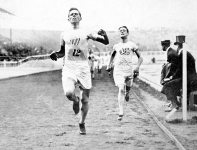 April 23, 2013
Lesser-known runners larger-than-life champions in their day
By Roger Robinson, Running Times
Name the only American middle-distance runner to win four Olympic gold medals. Which great American Miler was rejected by the New York police because of a suspect heart?
Which famous American runner once wrestled a competitor to the floor during a race?
The answer to all three questions is the same: Mel Sheppard.
Sheppard was the greatest track star of the 1908 London Olympics, winning the 800m and 1500m, both in world records, and anchoring the USA to victory with a brilliant 800m in the 1600m medley relay. At Amsterdam in 1912 he won another gold, in the 4×400m relay, and silver in the 800m. The NYPD must have wondered if they got it wrong when they rejected him because of his "enlarged heart." From New Jersey, Sheppard was huge on the thriving East Coast track circuit, setting the indoor Mile world record as well as WRs at 600, 880 and 1000 yards.
He was lucky to make it to the Olympics. The winter before the 1908 Games, he and his times were beaten by Guy Haskins, an unknown New Zealander studying dentistry at the University of Pennsylvania. In the rivals' climactic matchup over 1000 yards in Philadelphia on Jan. 24, 1908, Haskins again started to pass, when the infuriated Sheppard grabbed him round the neck, flipped him over and flung him to the floorboards with a "flying mare" throw, then sprinted the final two laps alone. Whether this suggests Sheppard would have made a good New York cop is a matter of opinion, but officials banned him, though only for five weeks. What would he have had to do to get seriously penalized? Knife the guy on the start-line?
In their next race, after the ban, Sheppard was again disqualified, this time for jostling and obstruction against Haskins. Track was not a polite sport in the early 1900s. Sheppard was hissed at by the crowds every time he ran, until all those Olympic medals regilded his image.
Haskins was not in London. He was declined selection for the U.S., and New Zealand sent no team. Sheppard was free to run into the history books as the U.S.'s all-time most successful middle-distance Olympian and moved on to a long career as a respected coach and athletic director.
We remember Jim Ryun, Steve Scott and Mary Decker Slaney as great American Milers, and Leo Manzano's 1500m silver medal still gleams freshly. But others were just as good and even more famous in their day. Bill Bonthron was so beloved for lifting American spirits in the 1930s Great Depression that one popular version of Cole Porter's song "You're the Top" had the lines, "You're the top! You're a Roosevelt smile. You're the top! You're a Bonthron Mile." He first topped Ironman Glenn Cunningham, Gene Venzke and the rest of that vintage era of the American Mile with a world record 1500m, 3:48.8, in 1934.
Bonthron had also bettered the Mile world record, with 4:08.7 in 1933, but that day he was well behind the light-footed Jack Lovelock (4:07.6), another New Zealander who impinges on this American story. Talking about the big Princeton man to the New York Times, Lovelock said, "Of all the Milers I ever faced, he was the best. And also the most unreliable. . . . He was very dangerous at all times."
The unreliability cost Bonthron deeply. At the 1936 U.S. Olympic trials, he was only fourth behind Cunningham, Archie San Romani and Venzke. Lovelock, planning his Berlin victory, confessed, "Except for the fact that I was personally very fond of Bonny, it didn't break my heart when he failed to make your Olympic team. You never knew what was coming when you faced Bill."
No account of forgotten American Milers should overlook the one who might have become the most famous. Wes Santee ran a world leading Mile of 4:02.4 in June 1953, making him one of three contenders to break the magic 4-minute barrier. That winter of 1953–54 he blazed the indoor circuit, peaking in February with a world record 4:04.9 Mile. Meanwhile, in the Australian summer, John Landy kept narrowly missing (4:02.0 his best), and in England, Roger Bannister's earliest opportunity was not until May 6. The prize seemed to beckon Santee.
Continue reading at: runnersworld.com