Lovelock Mile attracts top names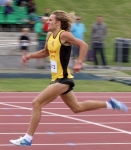 December 20, 2013
Prestigious Mile opens 9th Lovelock Classic, first Grand Prix meeting; Athletics NZ awarding cash prizes
By Stu Piddington, Timaru Herald
Timaru's Lovelock Classic has been given a boost by being included in Athletics NZ's high-performance program.
The ninth Classic is the first Grand Prix meeting in a series of eight, which culminates in the national track & field championships in Wellington next March, and the only Grand Prix meeting of its type in the South Island. Athletics NZ is supporting the event with cash prizes.
Based at the all-weather track at Aorangi Park, the January 4 meeting starts at 1:00pm with the prestigious Lovelock Mile.
The Mile field features aspiring 2014 World Junior Championship contenders Jack Beaumont, Tannock Blair and Sean Eustace and the experienced Ian Purvis, Fergus Eglesburg and Derek Lotz, so there will be plenty of intrigue.
World Championships representative Angie Smit leads the charge in the women's Mile, with Oceania Championship 800 meters gold medallist Pip Trevella expected to threaten.
Continue reading at: www.stuff.co.nz