Magnificent Mile Recap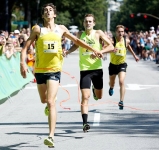 September 20, 2013
Furst, Chrisman Bullock win Open races; 1,000-plus participate in 8th edition
Gorgeous weather and a festive atmosphere led to an exhilarating day of racing and celebrating at the 8th Magnificent Mile on Sunday, September 15 in Raleigh, NC. Nearly 1,100 individuals participated and close to $45,000 was raised for motor neuron disease, with donations continuing to pour in.
This year's Men's Open Mile was an absolute thriller. Three NC State grads (photo, above) took it to the tape..literally! Stephen Furst crossed the line first with a time of 4 minutes, 9.67 seconds, Sandy Roberts was second with his 4:10.03, and Bobby Mack took third in 4:10.77. Congrats are also in order to the Capital RunWalk Racing Team, which took first place in the men's team competition.
As for the women's Open race, there was speed, speed and more speed across all age groups. Caitlin Chrisman Bullock of Charlotte was blazing fast on Sunday. She took first place overall with a time of 4:53.79. Second and third place went to Wolfpack alums Christina Vegh, who ran an impressive 4:59.51, and Andie Cozzarelli, who was hot on Vegh's heels with her finish of 5:00.52. Bull City Track Club claimed the team award on the women's side with outstanding performances from Marisa Ryan, Kristina Krasich and Kari Johnson, among others.
Continue reading at: http://www.icontact-archive.com