Making the Most of Your Mile: Inaugural Oak City Mile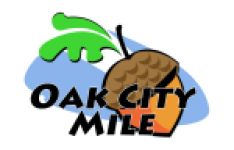 September 10, 2015
A road Mile tradition continues in Raleigh on Sunday, September 13 with $2300 in prize money and an opportunity for everyone of all ages to ring the PR bell
By Bring Back the Mile
The Oak City Mile will hit the streets of downtown Raleigh, NC this Sunday maintaining a 1-Mile road race tradition. The USATF North Carolina 1-Mile Road Championships feature $2300 in prize money, a PR bell for everyone reaching their goals and a great after party at Runology and State of Beer.
We spoke with Precision Race's Bruce Bokish who are producing the event alongside the likes of the Sir Walter Miler team, the City of Raleigh and the ALS Jim "Catfish" Hunter Chapter. For complete information and news visit the Oak City Mile's BBTM Featured Event page here.
BBTM: You're continuing a rich Road 1-Mile tradition in Raleigh, NC. How did it come about?
Bruce: Our timing company, Precision Race, had worked with previous road Miles in Raleigh and had the opportunity to begin to manage the race. While we're primarily a timing company and do so for 50-plus events in the southeast and mid-Atlantic, we also produce four or five events a year and work with another half dozen or so as race managers for charities. In addition we have a 501(c)3 called MS Events that has done charity events for multiple sclerosis society for 11 years and predates our timing company.
We've also been fortunate to work with the group that put on the successful track Mile in August, the Sir Walter Miler, to help us in recruitment of athletes. It's very much a collaboration between stakeholders in our city.
Is the Oak City Mile supporting a charity in year one?
Yes, the ALS Jim "Catfish" Hunter chapter has also been involved in Mile events here and will be our charitable beneficiary for the event.
What can participants expect from the race course?
The course will be on Hillsborough Street in downtown Raleigh as an out-and-back for participants. Our criteria for planning the course was to have it be as flat as possible, but Raleigh not being particularly flat made that a challenge. We also didn't want any 180 degree turns around a cone, but sought out a more graceful turn for the participants. We managed to find a USATF certified Mile course that uses a roundabout for the turnaround, which will be great.
The event also serves as the USATF North Carolina 1-Mile Road Championships.
Who can participate in this event?
This event is open to everyone. We have Men's & Women's races where we are recruiting elite runners, but it is open for everyone to participate in. Everyone wants to know what their Mile time is. It's a great measure of performance.
It's not geared to any particular age group. It is intended to be for everyone because everyone has a pace per Mile. Even if you are doing a Marathon you have a pace per Mile. The Mile is the fundamental distance and people want to know what their Mile can be.
Are you trying out anything new with this Mile race to increase the participant experience?
We are using state-of-the-art Jaguar chip timing. We're one of the first and largest Jaguar providers & trainers world-wide, which is developed by Innovative Timing Systems. This will provide real-time race results as racers cross the finish line and they can even get a text with their time. On our timing website as well as on our smartphone app we will display live results and have automated finish line photos, which is always a hit. On-site there will also be results kiosks where participants can punch in their bib number and get a print out of their results.
Next to these kiosks we are also going to have a PR Bell. During the registration process participants are asked to set a goal time and if they reach their goal they can ring the bell once and should they set a PR they can ring the bell twice. It makes it a nice individual celebration of performance!
What is the state of the Mile in Raleigh? How does it fit into a community's race calendar?
The overwhelming number of races in our area are 5Ks. We are always getting requests to put on 5Ks; organizations who want to put up a quick race and make some money. So, we actually encourage organizations to do something other than a 5K. We've suggested 8Ks and see those popping up more and have actually seen a reduction in 10Ks. But, there are very few 1-Mile races still. There may be a perception that people won't pay money to do a 1-Mile race, but we're changing that with the Oak City Mile and other events such as the Sir Walter Miler. It's a race for everyone.
In this area because of the limited number of 1-Mile races people have turned to the 5K as their yardstick, but especially with the Sir Walter Miler guys who are doing pop-up Miles, it is changing the yardstick to the Mile.
How is the after party shaping up?
The awards will be at a new running store called Runology and from there we have a race party at the State of Beer brewery, which is family friendly. There will be food and drink specials at the State of Beer. We encourage everyone to come on over and celebrate after the race.
Good luck Bruce and go Oak City Mile!
Thank you.