Malcolm Gladwell Versus the 5 Minute Mile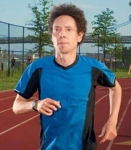 September 12, 2014
Author aims for sub-5 minutes at Fifth Avenue Mile on Saturday
By Kevin Helliker, Wall Street Journal
Malcolm Gladwell hadn't raced in 35 years when he signed up for last year's Fifth Avenue Mile. The experience was rewarding enough that the author has run a handful of subsequent races, including a five-miler and three five-kilometer events.
On Saturday, Gladwell will race Fifth Avenue again, this time with the goal of knocking at least four seconds off his time last year. That would place his finish below five minutes—which by amateur standards is lightning fast. In last year's field of about 5,000 amateurs, only 146 men finished faster than Gladwell's 5:03. No amateur woman did.
Even if he does break 5:00, however, Gladwell, whose work often explores the hidden elements of achievement, doesn't expect to finish first in the 50-54-year-old age group. Last year, he finished 11th in that age group—30 seconds behind the winner.
"It would take an act of God for me to win my age group," Gladwell, 51, said in an email.
Continue reading at: http://online.wsj.com