Matt Elliott: America's Fastest Kindergarten Teacher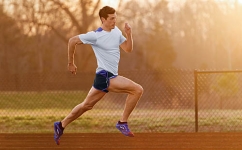 May 27, 2014
"I've got a full-time job. I'm an elementary school teacher. And I'm just having fun doing what I love to do."
By Charles Bethea, Running Times
In June of 2013, a full-time teacher lined up in the final of the 1500m at U.S. nationals in Des Moines, Iowa. Matthew Elliott, 27, had barely made it through prelims–finishing fifth in his heat in 3:41–and was now surrounded by a who's who of American athletes in a sport he hadn't really taken seriously until a few years ago: Will Leer (U.S. indoor Mile champion in 2013), Mac Fleet (2013 NCAA champion), Leo Manzano (2012 Olympic silver medalist) and Matthew Centrowitz (2011 world championships bronze medalist). He couldn't help but stare, like a kid on the court with the Miami Heat.
He tried to remind himself that he belonged here–but he couldn't even get a room in town. He was staying 30 minutes away, in Ames. He'd arrived at the track four hours early, after eating his normal pre-race meal: a 6-inch oven-roasted chicken sandwich on honey-oat and a bag of SunChips, courtesy of Subway. He'd done his normal routine–two 400s, two 200s–chilled in the warm-up area, tried to stay focused. He listened to "Get Lucky" while putting on his shoes: "I was jamming out, man. Will Leer was right beside me, and I was like, 'Man, wouldn't it be nice if we got lucky today?'" Leer smiled and nodded.
It started slow in the heat, a sit-and-kick affair, just as he'd figured. They loped through 800 meters in a pedestrian 2:09, Elliott on the inside. All of them fancied themselves kickers; they bided their time. With 600 meters to go, the pace quickened. Elliott jockeyed from near last place in the stretched-out 12-man train to get nearer the front, sprinting from the bell to the line in 51 seconds–faster than all but two men. With a final lunge in front of Leer, he took fourth, earning a chance to make the national team with a time of 3:45.85. Centrowitz won in 3:45.17. If one of the top-three finishers failed to race a qualifying time over the next three weeks and Elliott did–or if one of them got injured–Elliott was in.
Continue reading at: www.runningtimes.com