Meet The Most Interesting Man in NCAA Running: Josh Thompson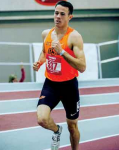 February 27, 2016
He's 5'9″, can dunk a basketball and in one year has gone from 4:17 to the #3 DMR time in NCAA history
By Jonathan Gault, LetsRun.com
When the Oklahoma State men tied the #3 time in NCAA history in the distance medley relay at Saturday's Alex Wilson Invitational at Notre Dame, they did so not with Chad Noelle, the reigning NCAA 1500 champ, running the anchor leg. Noelle ran the leadoff leg. The guy who anchored OSU to its blazing 9:26.60 win (in a race that produced four of the 12 fastest DMR times in NCAA history) was a guy whose Mile PR was only 4:10 as of a month ago and only ran 4:17 last year.
That guy's name is Josh Thompson. He has come out of nowhere to run 3:58.33 this year for the Mile and split 3:57.0 for 1600 on that DMR for OSU. And he's 5'9″ and can dunk a basketball. Thompson's rags to riches story is not yet complete, but it certainly is unique.
A year ago, Thompson was at Central Arizona College, a junior college in Coolidge, Ariz. Cowboys coach Dave Smith was there to recruit one of Thompson's teammates, Apolinar Baltazar, when he stumbled across Thompson, who ran 4:17 in the Mile last winter to take second at the NJCAA Championships. Thompson's high school (1:59 / 4:27 / 9:29) and juco (3:57 / 4:17 / 8:47 / 14:47 / 9:22 steeple) personal bests were not terrific, but Smith did some digging and was intrigued by what he found.
Continue reading at: www.letsrun.com