Mile Moments Abound in 2013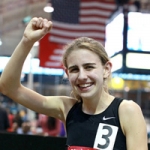 December 30, 2013
Mary Cain, inaugural Bring Back the Mile Tour, 63% increase in Mile prize purses, U.S. high schoolers shine and more highlight banner year
By Ryan Lamppa, Bring Back the Mile
As the year draws to a close, it is time to recognize and celebrate the numerous highlights, historic achievements and "magic" moments in the Mile, and what a year it has been for the storied distance.
To kick-off the year, the inaugural Bring Back the Mile Tour 2013 was launched. The Tour showcased 14 events nationwide and produced exciting Mile racing throughout the year. BBTM Tour 2013 highlights include:
• North Carolina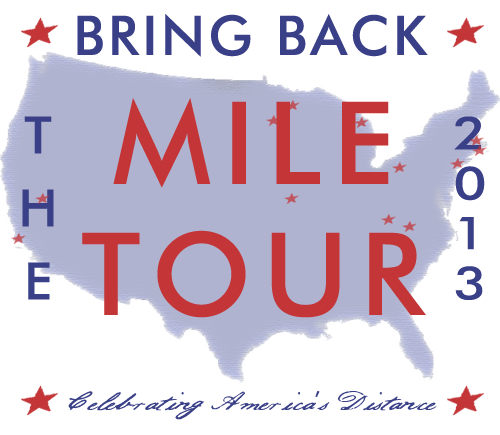 State indoor record of 3:57.81 by Cory Leslie at Camel City Indoor Mile
• Meet, indoor NCAA and U.S. Junior and High School records respectively: 3:51.21 (Lopez Lomong), 3:52.98 (Chris O'Hare) and 4:28.25 (Mary Cain) at the famed NYRR Wanamaker Mile
• Ten course or event records at Camel City Indoor Mile, NYRR Wanamaker Mile, Medtronic TC 1 Mile, Platinum Performance State Street Mile, DC Road Runners 1 Mile, Ryan Shay Mile, GNC Live Well Liberty Mile, Michigan Mile and Minnesota Mile
• Ben Blankenship and The Queen of the Road Miles Heather Kampf won three Tour events
• $120,000 awarded to top Milers
CAINSANITY ARRIVES!
The Mile story of the year was, of course, teen phenom Mary Cain's indoor Mile record rampage, and as a result, she was one of the few track & field athletes such as Usain Bolt to trend in 2013 on Twitter – #Cainsanity! At the New Balance Games, she set the U.S. high school indoor record (4:32.78) and later at the NYRR Wanamaker Mile, Cain crushed her own mark with a U.S. High School & Junior indoor record (4:28.25). For 2013, she was the third fastest woman for the Mile, and only Cain, Alan Webb (2001) and Jim Ryun (1966 & 1967) as teenagers have topped the U.S. Mile list for the year. In addition, she was youngest woman to ever run in the 1500m final at the World Championships.
As impressive as her record setting Mile achievements was how well Mary Cain handled herself with the overall attention from the media, the sport and others.
PROFESSIONALS ELEVATE THE MILE
On January 26, 2013, at the BU Terrier Invitational in Boston, Galen Rupp clocked 3:50.92 for the Mile, a Massachusetts state record. His performance was the #2 U.S. indoor Mile all-time (only Bernard Lagat is faster) and made the 2012 Olympic 10,000m silver medalist the fifth fastest man indoors all-time.
Nick Willis arguably had the best year in the Mile for men as the 2008 Olympic 1500m silver medalist went undefeated in six Mile races including victories at his self-organized Running Institute Mile in Saline, Michigan – which drew an impressive 3,000-plus fans and the world famous NYRR Fifth Avenue Mile. Willis' wins: Cooks Gardens Classic (3:58.09); B.A.A. Invitational Mile (4:03.3), course record; Drake Relays Mile (3:55.70); Medtronic TC 1 Mile (3:56.1), $10,000 course record bonus; Running Institute Mile (3:56.57) and NYRR Fifth Avenue Mile (3:52.1).
In 2013, an annual record-tying 23 U.S. men clocked their first sub-4 minute Mile (also 2012) and 4 U.S. women recorded their first sub-4:30 Mile (also 2006, 2008 and 2012). To-date, 407 U.S. men have broken 4 minutes, while 45 U.S. women have run under 4:30 for the Mile.
The U.S. also fared well in the metric Mile. For the year, 10 men broke 3:35 and 10 women cracked 4:06, and at the IAAF World Championships in Moscow last August, Olympians Jenny Simpson and Matthew Centrowitz took home 1500 meter silver medals.
Overall, for the professional athletes, Mile prize money increased by 63% from $138,750 in 2012 to $226,490 in 2013; another positive sign of the Mile's increased footprint and importance.
YOUTH IS SERVED
And the future looks bright for the U.S. in the Mile as the number of high school boys sub-4:15 for the Mile continues to rise with annual records for most outdoor sub-4:10 Miles (22 individuals) and sub-4:15 (66), while there were 67 U.S. girls who ran sub-5 minutes outdoors.
On the world scene, in July at the IAAF World Youth Championships in the Ukraine, Alexa Efraimson also earned bronze in the 1500 meters, while Junior Blake Haney was 5th in the metric Mile, clocking a fast 3:44.69 (ninth fastest U.S. boy all-time).
CELEBRATE 2014
In 2014, we will see more exposure, more new road Miles (already announced City of London Mile, Encinitas Mile, Rocket Mile and Micro Brew Mile) and more excitement around the Mile, particularly with historic milestones next year including 60th anniversaries of the first sub-4 minute Mile by Roger Bannister and The Mile of Century (Bannister and John Landy) and 50th anniversary of the first sub-4 minute Mile by a high school boy (Jim Ryun). Like 2013, the upcoming year will further elevate the Mile.