Miles Milestone Unmarked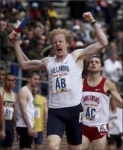 February 15, 2013
By Len Johnson, Runner's Tribe
As the USA approaches one four-minute milestone, it appears we here in Australia might have been asleep at the wheel as we passed another.
As of last weekend, 393 Americans had broken four minutes for the Mile. Speculation is mounting as to who will be the 400th and when – other than soon – it will happen.
One of the reasons the four-minute Mile retains such fascination almost 60 years after it was achieved is that it still accords with that urge for mathematical simplicity – four laps, one minute per lap, four minutes.
Four hundred resonates right in tune with those other fours.
Continue reading at: runnerstribe.com