Minnesota Mile 2017: New Date, New Course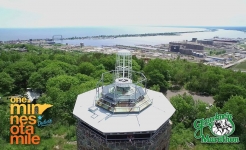 July 20, 2017
Home of two fastest Miles ever run on Minnesota soil the 4th stop on the Bring Back the Mile Grand Prix Tour 2017
From the Duluth News Tribune and Grandma's Marathon
The Minnesota Mile is getting a makeover.
Starting this year, the Grandma's Marathon-hosted event switches from a Sunday morning to a Thursday evening, and leaves behind downtown Duluth for Skyline Parkway. The Sept. 7 race will cover a loop that starts and finishes near Enger Park Golf Course, with views of Lake Superior and the St. Louis River Bay prominent throughout.
Part of the Bring Back the Mile Grand Prix Tour, the 11th Minnesota Mile is open to runners of all abilities, includes numerous divisions and offers $18,000 in elite prize money. Registration has opened, with an entry fee of $20 until Sept. 5, when it increases to $30. The cost for youth ages 7-14 is $10.
Once again, 250 Minnesota Mile finishers (age 12 & older) will be randomly selected to receive guaranteed entries into the 2018 Garry Bjorklund Half Marathon. Additionally, all finishers will receive a long-sleeve shirt. Registration is available at: grandmasmarathon.com
The Minnesota Mile, which used to go along Superior Street, has produced the two fastest Miles run in Minnesota, recorded in 2013 by Ben Blankenship (3 minutes, 52.7 seconds) and Gabriele Grunewald (4:21.3), both Minnesota natives.