MVHS Alum Breaks 4 Minute Mile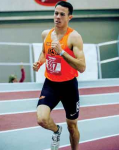 February 24, 2016
Josh Thompson the first athlete ever from the state of Nevada to run a sub-4 Mile
By Maggie McMurray, Moapa Valley Progress
A Moapa Valley High School alumnus and track star recently became the first athlete ever from the state of Nevada to run a Mile in under 4 minutes.
Josh Thompson, who graduated from MVHS in 2011, was a star on the school's track and cross country teams during his high school years, leading the men's cross country team to two state titles, and winning two state titles in the 3200 meters for the track team. He was also a member of the state championship basketball team.
Thompson recently proved that he has what it takes to lead in the university arena as well. A sophomore at Oklahoma State University (OSU), Thompson recently ran the Mile in 3:58.33 at the University of Washington's Husky Classic, cracking the coveted 4-minute barrier. Thompson finished 4th out of 76 runners in a competitive final at that meet.
The race was won by David Elliot of Boise State, who had a time of 3:57:38. Thompson's previous record in that event was 4:10. His time from the preceding meet was 4:15, meaning he dropped a total of 17 seconds off his time from one meet to the next, and 12 seconds off his personal record (PR).
"Josh just had a monster PR coming from his 4:10 a few weeks ago to today," said Thompson's coach, Dave Smith, in a statement to the OSU sports website, okstate.com. "Last time out he ran a 4:15, so he dropped 17 seconds in two weeks, which is kind of unheard of."
Continue reading at: mvprogress.com