National Running Day and the Go! Mile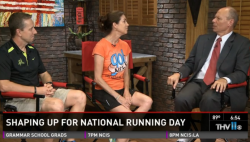 June 03, 2014
By KTHV
Wednesday is National Running Day, and to celebrate, running enthusiasts from all over central Arkansas will gather at Murray Park at 6 a.m. and go running.
Perhaps the most unusual event will come in 10 days. Erin and Gary Taylor have put together the Go! Mile event.
On Saturday June 14th, at the Burns Park Soccer Complex, there will be a series of one mile runs, all spaced 15 minutes apart. It begins with the novice division, and goes to kids and parents and ends with a national mile championship.
Since track went metric, the mile run has taken a backseat. It used to be a premier event. Next Tuesday at Burns Park it stages a comeback.
Who knows how fast these elite runners will be.