NDSU senior Teschuk to run prestigious Wanamaker Mile in Big Apple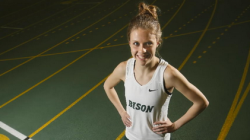 February 19, 2016
"The thing about Erin is even with an awe factor she likes to beat people, too. She'll look at Shannon Rowbury and think she doesn't look that much faster than me."
By Jeff Kolpack, Inforum
For the track and field junkie, this is about as cool of an invitation as a Mile runner can get. When it comes to the Wanamaker Mile, Erin Teschuk may be just a kid in the New Balance Track & Field Center candy story, but she's not going to treat it that way.
It's time to compete.
"It's what I'm looking forward to, being in a race that I know will be running fast," she said.
The North Dakota State senior will compete in Saturday's prestigious event in the Millrose Games in New York City, the world's longest-running indoor track competition. The 4:24 p.m. CST starting time for the Mile will be televised live on NBC Sports Network.