New Jersey State Mile Champ Eager for Faster Times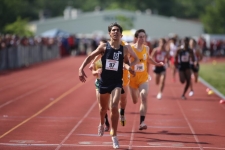 June 10, 2015
Sophomore Drake Anzano believes he can inch his 4:11 1600m PR closer to 4:00.
By Marc Bloom, Running Times
Athlete: Drake Anzano
Year: Sophomore
School: Christian Brothers Academy
Location: Lincroft, NJ
800m PR: 1:55.20
1600m PR: 4:11.36
3200m PR: 9:12.17
Key Workout:
10- to 15-minute warmup, stretching, strides (including 1 x 300 in 45 seconds)
2,000 meters on the track at 70-71 seconds per 400m
10-minute jog
5 x 600m at 68 seconds per 400m
20 minute cooldown
Drake Anzano, a sophomore at Christian Brothers Academy, surprised the opposition as well as his coaches when he came away with the 1600-meter title at the New Jersey Meet of Champions on June 3. Anzano, seeded 15th in the event with a 4:17.14 PR from the state group meet five days earlier, ripped off a 58.8 last 400m for a come-from-behind triumph in 4:11.36. It's been quite a year for Anzano—he struggled to handle increases in mileage this fall and took some time to mature into a varsity-level athlete. Yet, in a CBA program with a rich history of national-class runners, Anzano became the school's first state outdoor 1600m champion ever. He is also the nation's second-fastest sophomore in the 1600m or Mile this season.
Continue reading at: www.runningtimes.com