Nike Festival of Miles features Olympians, NCAA Champions & Top HSers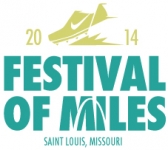 June 05, 2014
7th charity track meet in St. Louis will benefit local runner battling cancer; event streamed live by MileSplit.com
ST. LOUIS – The Festival of Miles Foundation will host the seventh Nike Festival of Miles Thursday night at Saint Louis University High School beginning at 6:30pm. The meet features 12 races over the course of two-and-a-half hours with athletes from kindergarten to professionals all set to compete. The final event will once again be the Saint Louis Track Club Men's Mile where past champions Jordan McNamara (Nike OTC Elite) and Craig Miller (New Balance) will face a very deep field attempting to once again break the coveted 4 minute barrier. The mark has been bested 12 times in the last five years at the meet.
A crowd of 2,000 is expected to pack the stands for what has become one of the biggest nights on the Saint Louis running calendar. The Festival of Miles began in 2008 as a way to raise money for Brigette Schutzman, a standout runner at Saint Louis University who had been injured in a a New Years Eve car crash. Every year since, the proceeds from ticket sales have gone to an athlete in need. This year's meet will benefit Christopher Shaw, 21, who is currently in remission after a difficult bout with T-cell Lymphoblastic Lymphoma. He is still undergoing weekly chemotherapy treatments while attending college at Milligan University in northeastern Tennessee.
Meet director Ben Rosario said he hopes to put on a show for Shaw and the rest of the crowd
"Christopher and his family are really pumped up for the event," Rosario said. "The Shaws are a whole family of runners so they'll feel right at home watching this awesome meet with 2,000 of their closest friends."
In addition to the Mile, the night will showcase some of the nation's top 2-lap talent in the Speed Factory Athletics Women's 800. Two-time defending champion Heather Kampf (ASICS) will line up against British Olympian Marilyn Okoro, 2012 World Indoor bronze medalist Erica Moore (Brooks) and local favorites Shannon Leinert (Nike OTC Elite) and Cydney Ross (NJ/NY Track Club).
While the pro races will be fan favorites for sure, so will the high school all star races which happen to include some of America's brightest young stars. The Athletics Sports Medicine Boys & Girls Mile feature fields that rival the most prominent post-season events in the country with U.S. #6 at 1600, Taylor Werner (MO), against U.S. #4 at 1500, Stephanie Jenks (IA), on the girls side. The boys race has sub-4:10 1600 performers Patrick Perrier (IL) and Spencer Haik (MO) up against a full field of worthy contenders from all over the Midwest.
Good weather is forecast for tonight's event which means meet records could fall. The men's Mile mark and State record is 3:55.29 set by Olympic silver medalist Leo Manzano back in 2009. The women's 800 best belongs to Kampf from last year (2:01.96). The high school Mile records are 4:07.68 (Daniel Everett, 2011) and Jenks (4:47.43).
Tickets are $5 at the door, with all the funds from the gate going directly to the family of Christopher Shaw. The meet will also be streamed live on MileSplit.com. Sponsors for the 2014 Festival of Miles include Big River Running Company, the Saint Louis Track Club, GO! St. Louis, Speed Factory Athletics, Athletics Sports Medicine, EnviroPAK, Dr. Hydrate, Saint Louis University High School, Xerox, TRXC Timing and Drury Hotels.
The Festival of Miles Foundation is a non-profit organization whose mission is to promote the sport of track and field and give back to athletes in need. The Festival of Miles is a track meet featuring 2.5 hours of non-stop action with youth and middle school races, high school races showcasing some of the nation's top talent and pro races featuring Olympic-level athletes. Each year all proceeds from ticket sales go to an athlete/athletes in need.
The Nike Festival of Miles is also a Bring Back the Mile Featured Event, showcasing the best Miles across the country and throughout the year.
To learn more visit: www.stlfestivalofmiles.com