Olympian Carrie Tollefson joins Wellbeats as Run Lead & Coach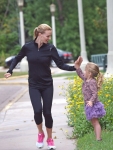 November 20, 2018
"I'm pumped to be part of the Wellbeats team and to use my experience to create a running channel that – like virtual fitness – works for people of all ages and stages of life."
From Wellbeats
ST. LOUIS PARK, Minn. - Carrie Tollefson holds numerous state & national running titles and participated in the 2004 Olympics. She works regularly as on-air talent for national TV & sports networks, and now, the Minnesota native is bringing her expertise as a runner and her motivational skills to on-demand, virtual fitness as Run Lead & Coach for Wellbeats. The Minnesota-based content and software-as-a-service (SaaS) company that provides virtual, on-demand fitness classes has announced that Tollefson has joined its team of fitness experts to help develop a new running channel to complement its current lineup of more than 24 fitness channels and approximately 400 classes.
"Authenticity is core to everything we do at Wellbeats. We strive to feature fitness instructors in our programming who not only exemplify strength and well-being, but who are relatable to a broad base of consumers," said Jason Von Bank, president & CEO of Wellbeats. "Carrie is all of these things, and we are thrilled that she is joining our team of fitness experts. Her experience, knowledge and natural ability to motivate will help us deliver a top-notch running channel."
Tollefson, who was born and raised in Minnesota, holds numerous titles and records for distance running at the state high school level, collegiate level and post-collegiate competitions – all leading up to participating in the 1500 meters at the 2004 Olympics in Athens, Greece. Tollefson is a regular commentator for ESPN, NBC, NCBSN, ABC and USATF.tv, where she covers national and world class running events. She also conducts training camps and is a motivational speaker.
"There's nothing I love more than running and helping other people learn how to fit this sport that has brought so much to my life, into their own fitness routines," said Tollefson. "I'm pumped to be part of the Wellbeats team and to use my experience to create a running channel that – like virtual fitness – works for people of all ages and stages of life."
According to Von Bank, the new Wellbeats running channel will be available in 2019. The company is developing the new channel in response to user feedback, which shows that running or walking is the most common form of exercise, with 79 percent of people citing it as part of their fitness routine.
What is Wellbeats on-demand, virtual fitness?
Wellbeats is fitness that fits into people's lives. The company offers on-demand classes that make fitness affordable, easy and accessible. Workouts appeal to all ages and stages of life & fitness, and can be used at work, at home, or while traveling – all you need is a screen (mobile, desktop or TV) and internet connection. The workplace options and mobile platform make Wellbeats easy to implement, easy to administer and easy to monitor for tracking progress.
Wellbeats currently averages 2.5 million activity minutes per month, and engaged users record an average of 212 activity minutes per month.
Consumers can purchase the Wellbeats app through the Apple App Store beginning in November. Wellbeats is also available to consumers through 2,300 commercial clients – including employers, gyms or fitness centers, apartment & multi-family housing, and colleges and universities – in 50 states and 19 countries.
Wellbeats was formed in 2008 by a group of fitness club owners who noticed members were bringing their own workout videos into the club's multi-purpose room to create a do-it-yourself "club within a club." The company, which was originally called Fitness on Request, sold kiosks with custom-created, on-demand, fitness video content. Fast forward to 2014, and the company changed its name to Wellbeats and shifted its focus to content and SaaS.
Visit wellbeats.com to learn more about on-demand, virtual fitness for commercial or individual use.