Olympian Moses helping middle school students get active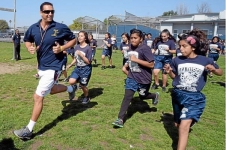 February 19, 2014
"When it hits home is when we're running the Mile and a girl will say, 'I can't run,' " Moses said. "I'll tell her to run to the cone, and she will."
By Jill Painter, Los Angeles Daily News
NORTH HOLLYWOOD – Merrill Moses was not a fish out of water at Madison Middle School, even though you wouldn't blame him for feeling out of place.
Moses, a 36-year-old Olympic water polo player, had 62 seventh-grade girls — and one boy — to put through a workout on Wednesday as part of the "Ready Set Gold!" program which includes the Mile run.
He's normally in the water, training for the 2016 Olympics, which will be his third time representing the U.S. He's also an assistant coach for the Pepperdine men's water polo team and a club coach.
This group was different. This was dozens of girls, and the first time he was here, a girl told him: "I can't believe I'm sweating."
Continue reading at: www.whittierdailynews.com