Olympian Nick Willis Organizes Running Institute Mile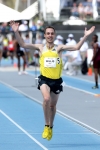 July 29, 2013
Inaugural track event draws top U.S. and international Mile field in Saline, Michigan on Sunday, August 4; Kevin Sullivan's 3:55.87 state record could be challenged
By Steven Marcinkowski, RunMichigan.com
On Sunday, August 4, a field of national and world class men's Milers will assemble at Saline High School for one race, and one race only. The Running Institute Mile features a remarkable field of 10 of the nation's fastest Milers, eight of whom have run sub-4 minutes in the Mile.
Towards the end of June, a Facebook event started circling around among high school, collegiate and elite runners. The event, "The Running Institute Mile", has been spearheaded by Nick Willis (right, PhotoRun.net), a two-time Olympian and 2008 Olympic silver medalist in the 1500 meters for his home country, New Zealand.
Willis, the former University of Michigan Track & Field great, still lives and trains in Ann Arbor under the guidance of former Michigan head coach, Ron Warhurst. Warhurst guides Willis and other elite runners as part of the team at the Running Institute, a service that offers highly specialized injury assessment, treatment and training for runners.
While attending Michigan, Willis compiled a hefty list of accomplishments including being a five-time NCAA All-American, six-time Big Ten champion and two-time NCAA champion in the Mile and Distance Medley Relay.
The 2013 competitive season for Willis on the track has been a bit of an adventure, however. Currently, he is working through an upper calf strain that he suffered in training. Combining that with the recent birth of his son, Nick has not been able to pursue the racing exposure that most athletes experience going into a World Championship event. Nick is set to compete at the IAAF World Track & Field Championships held in Moscow, Russia on August 10-18.
Along with the other athletes and staff at the Running Institute, Willis was determined to help provide a world class race while staying close to family.
As the typical American track season is catered towards the high school and collegiate seasons, there aren't too many races that are held in late July and early August, let alone of this caliber. Another key component that Nick considered when choosing the venue was race simulation. As he is used to training at the University of Michigan, a race at Ferry Field on campus would not give him the race simulation he is looking for. With a strong connection with the Saline High School track & field coach, he chose Saline High School as the site for the event.
Continue reading, includes the men's field, at: www.runmichigan.com