OTC Elite's Brown Changes His Course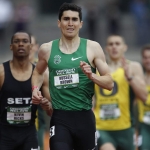 June 19, 2013
The top U.S. Miler will move to New York City to join his fiancée after the track and field season
By Curtis Anderson, The Register Guard
After arriving in Eugene from Palo Alto, Calif., nearly five years ago to compete as a professional middle distance runner, Russell Brown is planning to move to New York City at the end of the track and field season.
He'll join his fiancee, Nji Nnamani, the former director of operations for UO track and field, and a member of Stanford's 2005 national championship volleyball team, as she starts her career as an investment banker.
The couple plan to live on the upper west side of Manhattan, close to Central Park, where Brown said he will continue to run under former OTC Elite coach, Frank Gagliano, as a member of the New York / New Jersey Track Club.
He expressed mixed emotions about leaving.
"I'll always love Eugene," said Brown, a native of Hanover, N.H., who was recruited to Stanford by his current coach Vin Lananna. "If there is some way to get back, I want to; and if there was some way to stay, I would."
Continue reading at: registerguard.com