Paul McMullen, an Olympian and U.S. Mile Champion, Dies at 49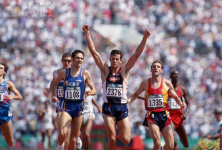 March 05, 2021
"He was a competitor. He wanted to step on the line and race. It wasn't about running a fast time at a time trials—it was about racing and beating people."
By Sarah Lorge Butler, Runner's World
Paul McMullen, whose brilliant career on the track was highlighted by multiple national titles and representing the U.S. at the 1996 Atlanta Olympics, died on March 4 after a tragic skiing accident in northern Michigan. He was 49-years-old.
McMullen grew up in Cadillac, Michigan. In a 2018 interview with Michigan Runner Girl podcast, he said an early physical education teacher noticed his speed and told him he should run track.
He didn't go out for the team until high school, when he was also a linebacker and tight end on his school's football team. At 6-foot-2 and 165 pounds, McMullen didn't look like a typical distance runner and often stood inches above his competitors on the starting line. He ran his first Mile in 5:35, an inauspicious beginning for an athlete who would go on to win multiple national titles. But his senior year of high school, McMullen won the Michigan state title in the 1600 meters.
He landed at Eastern Michigan University, with what he called a "tiny little scholarship," and ran under legendary EMU coach Bob Parks. Although he showed up out of shape and struggled in his early days, he became an eight-time All-American and was inducted into EMU's Hall of Fame in 2003.
When he graduated in 1995, McMullen was among the nation's best. He won the U.S. national title in the 1500 meters that year and earned a spot on the U.S. team for the World Championships in Goteburg, Sweden. There, he made the final and finished 10th in 3:38.23.
In 1996, he won the 1500 meters at the Olympic Trials in 3:43.86, running from the front and holding off Jim Sorenson by 0.02 seconds. Race favorite Steve Holman, who shared an intense rivalry with McMullen, finished 13th after he faded at the bell lap. At the Games in Atlanta, McMullen, then 24, reached the semifinal round.
Continue reading at: runnersworld.com