Pre & Me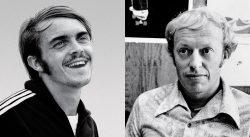 May 26, 2016
I told myself there was much to be learned from such a display of passion, whether you were running a Mile or a company.
By Phil Knight, for Runner's World
Excerpted from Shoe Dog: A Memoir by the Creator of Nike, by Phil Knight. Copyright © 2016 by Phil Knight. Reprinted by permission of Scribner, a Division of Simon & Schuster, Inc.
* * *
In 1972, we turned our attention to the Olympic Track & Field Trials, which that year were being held, for the first time ever, in our backyard: Eugene, Oregon. We needed to own those Trials, so we sent an advance team down to give shoes to any competitor willing to take them, and we set up a staging area in our store, which was now being ably run by Geoff Hollister. As the Trials opened we descended on Eugene and set up a silk-screen machine in the back of the store. We cranked out scores of Nike T-shirts, which Penny [Knight's wife] handed out like Halloween candy.
With all that work, how could we not break through? And, indeed, Dave Davis, a shot-putter from USC, dropped by the store the first day to complain that he wasn't getting free stuff from either adidas or Puma, so he'd gladly take our shoes and wear them. And then he finished fourth. Hooray! Better yet, he didn't just wear our shoes, he waltzed around in one of Penny's T-shirts, his name stenciled on the back. (The trouble was, Dave wasn't the ideal model. He had a bit of a gut. And our T-shirts weren't big enough. Which accentuated his gut. We made a note. Buy smaller athletes, or make bigger shirts.)
We also had a couple of semifinalists wear our spikes, including an employee, Jim Gorman, who competed in the 1500. I told Gorman he was taking corporate loyalty too far. Our spikes weren't that great. But he insisted that he was in "all the way." And then in the marathon we had Nike-shod runners finish fourth, fifth, sixth and seventh. None made the team, but still. Not too shabby.
Continue reading at: www.runnersworld.com