Prep track: Elite Davis runners work to stay motivated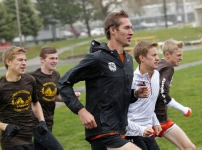 April 16, 2012
Among the nation's fastest, they are their own top challengers
By Kyle Goon, The Salt Lake Tribune
KAYSVILLE, Utah - For Brad Nye, five seconds is a world of difference.
A 4:08 mile might not sound much faster than a 4:13 mile. But measured in how much harder his heart pounds, how much more his legs burn and how much more the Davis senior has to focus, it might as well be a different event altogether.
"You have to keep making up a little more than a second every lap," Nye says. "The oxygen debt just keeps growing, and the lactic acid builds up. I'm totally maxing out."
Those five seconds are the difference between being an elite high school runner and being the #1 high school miler in the country - a distinction Nye now owns.
Continue reading at www.sltrib.com