Race organizers look to bring back the Mile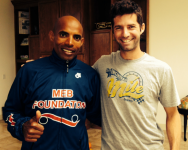 March 11, 2014
U.S. Mile legend Steve Scott: "the appeal of running the Mile is not only that it's a good distance that people can compare their times to with each other, but that the Mile is a meeting ground for someone that has a lot of speed and a lot of strength."
By Tony Cagala, The Coast News
ENCINITAS, Calif. — Co-founders of The Encinitas Mile race Daniel Seidel and Mark Sarno are looking to join in the movement of bringing back the Mile.
As North County runners, they appreciated the fact that there have been so few opportunities to run in a competitive Mile-long race.
On Sunday, March 16, that will all change.
The two runners are hosting the inaugural race, which they hope becomes an annual event.
"There's a whole movement across the United States to bring back the Mile," Sarno said. "It's an iconic distance."
That movement, Bring Back the Mile, is seeking to have the Mile race distance brought back to the forefront.
The 1500 meter or 1600 meter races don't necessarily hold the same lore as when British runner Roger Bannister broke the sub-4 minute Mile barrier for the first time in 1954.
The Mile race is something that really captured the imaginations of a society certainly, Sarno explained.
Continue reading at: https://thecoastnews.com