RBC grad Napolitano a rising Mile star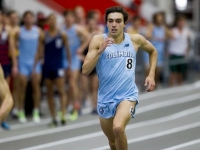 April 26, 2016
The Columbia junior looks to build on breakthrough sub-4 indoor campaign with a big showing at this week's 122nd Penn Relays.
By Jerry Carino, Asbury Park Press
Breaking four minutes in the Mile is one of the premier distinctions in college track and field.
Winning a Penn Relays watch is one of the sport's most prestigious honors.
Rob Napolitano is a member of the first club, and this weekend he's looking to join the second.
The Columbia University junior, a Red Bank Catholic High School graduate, entered the "sub-4" brotherhood in February when he posted a 3:58.98 Mile at the Fastrack National Invitational on Staten Island.
Continue reading at: app.com