Robinson Breezes to Green Mile Victory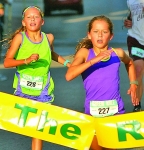 August 17, 2013
Wayt twins the first females to cross finish line in downtown Wheeling on Friday evening
By Rick Thorp, The Intelligencer / Wheeling News-Register
WHEELING - It's been a pretty eventful week-and-a-half for Martins Ferry's Cedric Robinson.
Last week, Robinson picked up victories at the Betty Zane Days 5K Run and the Samuel A. Mumley ''Do It for the Kids'' 5K Classic in St. Clairsville.
Friday night, the 22-year-old took his talents to the streets of downtown Wheeling. And, again, victory was his.
Robinson broke the tape in 4 minutes, 37 seconds to claim his first crown in the Open male division of the Green Mile, part of this weekend's Debbie Green Memorial race events at Heritage Port.
Wheeling 12-year-old twins Kenadee and Ireland Wayt finished 1-2 in the Open female race, both clocking 5:58.
''At the end she was coming closer,'' Kenadee said. ''I heard her feet and I started sprinting. I just saw the finish line and wanted to cross it first."
This year's Green Mile was run in memory of Wheeling's Randy Stephens, Rayland's Kristopher Klubert and Benwood's Tom 'Dino' Smith.
Continue reading at: www.theintelligencer.net