Run Run Santa Mile in Viera a jolly good time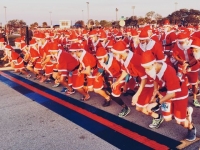 December 24, 2017
Hundreds of Santas celebrate the Mile and the holiday season in Florida
By Lyn Dowling for FLORIDA TODAY
VIERA – Away went Ryan, whizzing like a Shooting Star. And then away went Kaitlin, whizzing like a Sabre jet.
The men's winner was Ryan Widzgowski of Keene, N.H., otherwise one of the fastest men in New England, Kaitlin is the redoubtable, fittingly-named Kaitlin Donner of Satellite Beach and they were the first of about 900 costumed Clauses to cross the line Saturday morning in Viera Pizza's second annual Run Run Santa Mile.
The 25-year-old Widzgowski, an All-American at Keene State College and NCAA Division III champion in the 1500 meters three years ago, dashed to the finish in 4 minutes, 58.63 seconds, ahead of Ed Donner of Satellite Beach (5:02.58) and Shane Streufert of Viera (5:04.05).
History repeated itself for Kaitlin Donner, who has won both Run Run Santa races, this time at 5:09.93, which also put her in fourth place overall. Second among women was Melissa Taylor of Indian Harbour Beach (5:47.71), followed by Vanessa Bolen of Kissimmee (6:11.34).
Masters winners were Alex Colan (5:17.37) and Lisa Petrillo (6:41.07), both of Melbourne; grandmasters winners were Joe Hultgren of Melbourne (5:43.47) and Mary Hofmeister of Malabar (6:43.66).
Continue reading at: floridatoday.com