Runners race Mile to kick off Liberation Day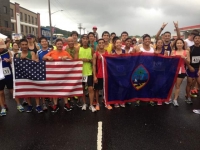 December 13, 2014
"This race represents just a Mile in the shoes of the people who liberated Guam. It's an honor to run this Mile."
By Jackie Small, Pacific Daily News
Impervious to heavy rain showers and gusty winds Wednesday morning, runners competing in the Guam Running Club's 30th Liberation Day Mile christened the parade route and kicked off the day's festivities.
Commemorating an important day in Guam's history, the Liberation Day Mile is a unique opportunity for runners to celebrate with a float's-eye-view before the parade has even begun. Competitors raced along Marine Corps Drive from Anigua to Chamorro Village, while early spectators cheered them on.
The race also represents a unique distance. "It's the only official Mile-long race in Guam," explained race organizer Manny Hechanova. "It's a tough Mile, with heavy smoke from nearby barbecues along the parade route. And it's crucial for runners to warm up, because the race is over so fast."
Jeofry Limtiaco broke the tape in 4:54, closely followed by runner-up Ryan Matienzo.
"My family celebrates along the parade route every year. They were there today cheering me on," said Limtiaco, who attributed his win to his loved ones. "My family motivated me."
Continue reading at: www.guampdn.com