Runners will need speed to win Sir Walter Miler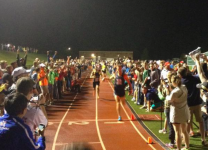 August 07, 2015
That's the point of this Mile race: to create a previously unheard-of experience for runners and fans alike.
By Aric Dilalla, The News & Observer
For those who may never make it to Amen Corner in Augusta or taste the strawberries and cream at Wimbledon, there's a local option that should provide the same first-hand glimpse at athletic excellence.
More than two dozen emerging elite runners will gather Friday evening in Raleigh at Meredith College to try to break the 4-minute Mile barrier – or the 4:30 female equivalent – at the Sir Walter Miler.
"Running under 4 minutes is like winning three of the four majors in golf or scoring 100 points in an NBA basketball game," said Sandy Roberts, who was the sole competitor in the event's first year and now helps organize the race. "I think it's the most exclusive club in all of sports."
Read more here: www.newsobserver.com