San Clemente High's Dunne sets Mile PR, leads the nation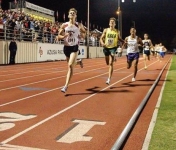 April 02, 2016
"Being the current national leader in the Mile, that's a pretty big confidence booster… I had perfect conditions…"
By Andrew Turner, Orange County Register
AZUSA – Fast times are nothing new at the Azusa Meet of Champions Distance Classic.
But the person who was responsible for the fast times surprised many.
San Clemente's Connor Dunne set a meet record with a national-leading time of 4:04.59 in the Invitational Mile last Saturday night at Azusa Pacific University.
The Colorado signee trailed frontrunner and defending 1600 meter state champion Austin Tamagno (Brea Olinda) for the first 1400 before making his move. Dunne edged out Tamagno (4:04.83) and Madera South's Eduardo Herrera (4:04.99).
"Being the current national leader in the Mile, that's a pretty big confidence booster," Dunne said. "I still try to stay humble because I know I'm going to have to race a lot of those guys in the future. In that race, I had perfect conditions, but in future races, it might not be the same."
Continue reading at: www.ocregister.com