School's Out for Summer - Darn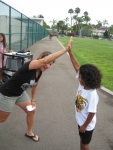 July 19, 2013
San Diego's Alice Birney Elementary running program centers on the Mile
By Toni Reavis
"I want to stay in first grade," Kaylyn Rodriguez told her dad as she walked up for her final day of the school year at San Diego's Alice Birney Elementary. While most kids are anxious for school to be over and summer vacation to begin, Kaylyn is one of those who seemed to look forward to school each day, maybe because she knew how it would begin.
Out behind the long, one story school building that houses grades K-5 is a large grass field ringed by asphalt. That "track" has become the centerpiece for a year-round pre-school running program that serves as a magnet for Kaylyn and quite a number of the other 570 Birney Bees.
"We started the running club about ten years ago," explained Coach Carol Lord who was already at her station handing out personalized lap cards from two file boxes as kids bustled all around. "But it's when they laid the track two years ago that we began timing Mile runs every Wednesday. We started with 35 kids, and now 250 out of the 570 total enrollment has run at least one Mile this year."
As the kids filtered in through the front gates in the city's University Heights neighborhood, Kaylyn had already begun doing her laps. We met Kaylyn and her family last week at the final Summer Nights Track & Field Meet at Lincoln High School where she ran her first competitive 1500 meters. At the time she had run approximately 85 miles throughout the course of the school year as part of the Birney Running Club, picking up 17 colorful toe tokens that Coach Lord hands out for every five miles run. Her goal, said Kaylyn, was to earn 20 little feet before the end of the school year. I decided to come see if she could do it.
"It takes about 26 laps for five miles," the coach told me. "Every five miles earns one toe token. On Wednesdays we do timed Miles. For that the kids carry four popsicle sticks, and after the first lap they drop one on each lap to keep count. But each day while they do laps, each lap is stamped on their card and after 26 laps we award them another toe token."
To show how well the program is progressing, this year the Birney Running Club qualified 24 students for the Chelsea King Memorial Mile at the Lindbergh Schweitzer Elementary School. Last year only eight Birney Bees participated.
Continue reading at: tonireavis.com