Senior foursome walks to Mile glory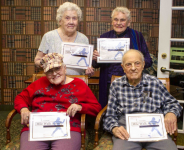 February 23, 2016
"We all started together, but every time I looked up Thelma was farther ahead. She kind of pushed me to get a better time."
By Scott Kolb, Cody Enterprise
Participating in the opening day of the Wyoming Senior Olympics Winter Games in Cody were four residents of the Brookdale-Absaroka retirement home.
The residents from Brookdale-Absaroka took part in the Mile walk, which was staged Thursday afternoon at the Rec Center track. Two of the senior Olympians are nearly 100 years old.
It was 10 laps around the track and with the help of their rooting section, the four seniors all made the trek. Even pushing a walker with her oxygen tanks didn't slow 98-year-old Lola Booth.
Continue reading at: www.codyenterprise.com