Shelby Houlihan and her fearsome kick have taken over U.S. track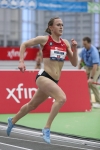 May 04, 2019
Big goals for 2019 include U.S. record, defending USA titles and a medal at World Championships in Doha
By Ken Goe, The Oregonian / OregonLive
BEAVERTON — Shelby Houlihan beat some of the best runners in the world in 2018 and crushed the U.S. record in the 5000 meters.
It looks like a pretty successful year, but Houlihan doesn't consider it good enough.
"I almost came away with a perfect season, except for those last two races," she says. "I ended up getting second. It stung a little bit."
British star Laura Muir held off Houlihan in the 1500 at the Diamond League Final in Brussels, and Kenyan Winny Chebet edged her in the 1500 at the Continental Cup.
Both races were very close, and Track & Field News was impressed enough with the way Houlihan lay waste to her stateside competition to name her 2018 U.S women's athlete-of-the-year.
But know this about Houlihan: the 5-foot-3, spring-loaded Olympian from the Portland-based Bowerman Track Club isn't in it for second place. Against anybody. Ever.
Connie Houlihan, Shelby's mom, was an elite marathoner who continued to run competitively into her 50s. When Shelby was a teenager in Sioux City, Iowa, she sometimes accompanied Connie on races and training runs. Before long, it would get serious, no quarter asked or given.
Connie says she used to go out hard to neutralize her daughter's youthful edge in speed and attack hills because Shelby didn't have the strength to keep up.
"I remember the last time I let her run beside me in a 5K," Connie says. "I said, 'Let's go out together.' Big mistake. I pushed her along. She struggled to stay with me through 2K. We got toward the end, came around the corner toward the finish line, and she just trots by me.
"I knew my butt had been kicked that day."
Shelby took that competitive edge to Arizona State, where she was a 12-time All-American and the 2014 NCAA 1500 champion.
Continue reading at: oregonlive.com