Simpson, Rowbury Give U.S. 1-2 Medal Punch in World Championships 1500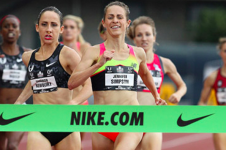 August 10, 2015
One is a former world champion, the other the American record holder.
By Peter Gambaccini, Runner's World
The United States could take home two of the three medals in the women's 1500 meters at the IAAF World Championships, which begin August 22 in Beijing. Jenny Simpson and Shannon Rowbury are two of the top four women in the world in the event this year, along with Ethiopia's Genzebe Dibaba and Sifan Hassan of the Netherlands. The Americans both like their chances of medaling, even of getting gold, and they like their compatriot's chances, too.
Simpson was world champion in the 1500 in 2011, silver medalist in 2013, and the overall Diamond League series winner for the event in 2014. Rowbury won world championships bronze in 2009 and, as of July 17, is the American record holder in the 1500. Her 3:56.29 in Monaco broke Mary Decker Slaney's 32-year-old mark of 3:57.12. Simpson, who has a career best of 3:57.22 from 2014, ran 3:57.30 in Monaco, behind Dibaba's world record of 3:50.07.
"I ran 3:57 and that's incredible for me, and I'm proud of it," Simpson told Runner's World Newswire. "But I was fourth [behind Dibaba's world record 3:50.07, Hassan, and Rowbury] and I want to be on the podium. Just as I stepped off the track, I walked up to my coaches and said 'just get me ready for Beijing.'
Continue reading at: runnersworld.com