So Close! Ford Palmer's Four Sub-4:01 Miles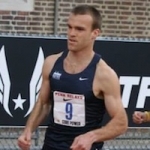 May 30, 2014
The 4-minute barrier remains elusive for the former football player
By Liam Boylan-Pett, Running Times
On March 8, Ford Palmer ran a Mile in 4:00.43. A year earlier, he had run 4:00.46, so at least his March effort was a step forward. On April 26, he ran 4:00.00 at Penn Relays. Another PR, but he still couldn't say he had broken four minutes for the Mile. Then, on May 27, Palmer ran the Mile at the Warwick Fast Times Invitational in Warwick, New York.
He ran 4:00.07.
Palmer, who is in his first year with the New Jersey-New York Track Club, is a former football player, bartender, lifeguard and vegan. He was recruited to play football in college but gave up the sport after suffering too many concussions. When he showed up at Monmouth University in New Jersey as a freshman, he weighed 185 pounds. Eventually, he went vegan, lost 30 pounds, and ran 4:00.46 to set the Monmouth school record. Now, in his first year out of school, Palmer lives in Smithville, New Jersey, just outside of Atlantic City. There, he tends bar and lifeguards in the summer in the midst of working out with his New Jersey-New York teammates and coach Frank Gagliano in Dunnellen, New Jersey. (Note: the author is a teammate of Palmer.)
In between the 4:00.00 and the 4:00.07, Palmer ran 3:38.58 for 1500m at Occidental. It qualified him for the U.S. championships in Sacramento at the end of June and converts to a 3:56 Mile, but he's still searching for that real sub-4:00.
Running Times spoke with Palmer in the wake of his third sub-4:01 Mile in three months.
Continue reading at: www.runningtimes.com