Spirit Run: much more than a fundraiser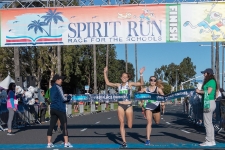 February 23, 2020
Top fields expected for Elite Mile including 2017 race champion Tori Tsolis and Therese Haiss
From Stu News Newport
Generations of Newport Beach residents have grown up with Spirit Run, most remembering it as a school fundraiser. But for many, from near and far, it's much more.
Spirit Run began in 1983 with the 5K for adults and Mile for children. Over the years, it has expanded to offer running and walking events for every age and fitness level. Today's adult distances include the 10K, 5K, Juan Ramirez 15K (10K + 5K), and Mile (Elite or Open). Rather than a single race, children are grouped by age into six separate 1/4 - 1 Mile races. Other youth choices include the Youth 5K for high school ages and younger, and the Toddler Trot for the littlest ones. Families run or walk together in the Family Mile or 5k Family Walk. Even your BFF canine is included in the Dog Mile.
Since introducing adult Mile races in 2016, Spirit Run has attracted elite and highly competitive runners from Southern California and beyond. The Elite Mile is for men who can finish a Mile faster than 4 minutes, 15 seconds, and women, faster than 4 minutes, 50 seconds. The Open Mile is for competitive runners who don't qualify for the Elite Mile. Both races take place on a fast, point-to-point course that travels on a slight decline.
Many elite athletes have competed at Spirit Run for several years and can't wait to return. The word is spreading and the field is growing. Most will race the Elite Mile followed by the 5K. Some will race the Juan Ramirez 15K (10K followed by the 5K), with a few adding the Open Mile. All are attracted by the fast courses, great competition and abundance of prizes, including a $5000 prize purse in the Elite Mile. This combination of factors is expected to result in fast finishing times, possibly course records. This makes Spirit Run great for spectators as well.
Spirit Run, a Bring Back the Mile Featured Event, welcomes Thomas Dialynas, a Newport Beach native. Dialynas, the 2020 Surf City Marathon Champion, is registered for Spirit Run's Elite Mile and 5K. Dialynas was captain of Corona del Mar High's cross country and track teams and twice voted Most Valuable Player. He ran for Princeton where he was 2012 Academic All-American. After college, he qualified for the 2016 U.S. Olympic Marathon Trials.
Dialynas attended Harbor Day School, although at that time, private schools did not participate in Spirit Run. "I have never actually run the Spirit Run," he said. "I am glad to finally partake in this annual Newport tradition. The Mile is a great distance in a great place against great competition for a great cause."
While Dialynas resides close enough to run to the Elite Mile start line, Mathew Winkler is traveling more than 1,000 miles. Winkler is a schoolteacher from Victoria, Canada who placed 5th at the 2019 Canadian Track & Field Championships. "I'm a competitor at heart," Winker explained. "Three years ago, my students encouraged me to enter this sport again and I discovered I had a little bit of energy left in these legs."
Winkler is the favorite for the Elite Mile. When asked whether he can win he replied, "My body is going through a bit of a renaissance, where I'm faster than I was in my 20s. That has brought me to the Spirit Run for an opportunity to race some fast people on a fast course with a chance to break 4 in the Mile for the first time."
Winkler will have several other competitors on his heels including Bryce Richards from Phoenix, Ariz. "I'm really excited about competing in the Spirit Mile / 5K," Richards said. "This will be a great test of my fitness...I hope to mix it up with the other athletes and hopefully come out on top!"
There is also an impressive field on the women's side. Tori Tsolis, Spirit Run's 2017 Elite Mile Woman's Champion, is a California native. "I'm excited to return to the Spirit Run Mile! I had a few injuries that sidelined me from competing in this event the past two years. It's a great atmosphere and a fun, local opportunity to run a quick road Mile in March."
Continue reading at: stunewsnewport.com
For more information on the Spirit Run Elite Mile, click HERE.