Sub-4 at 40?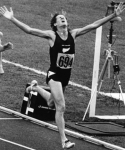 December 23, 1991
John Walker to become the first 40-year-old to break the 4 minute Mile?
By Merrell Noden, Sports Illustrated
JOHN WALKER KNOWS WHY NO ONE has broken 4 minutes for the Mile at age 40. ''I just don't believe people have been stupid enough to stay around at a high-level competitive edge at 40,'' he says. ''If you'd told me 15 years ago that I'd be trying to do it, I'd have said, Don't be stupid. It's impossible. Absolutely impossible. I didn't think I could run this long. I never intended to run this long. This is by chance.''
Walker turns 40 on Jan. 12. Barring injury or a catastrophic decline in his powers, the sturdy New Zealander seems certain to become the first Miler to break 4 minutes at age 40. ''If someone else wants to be first,'' says Rod Dixon, 41, Walker's fellow New Zealander and longtime friend, ''he'd better do it before January 12.''
That's when ''A Night of Miling'' is planned for Walker's home track in Auckland's Mount Smart Stadium. Mile races for men and women of all ages will lead up to the evening's featured event -- Walker's attempt to do at 40 what was considered humanly impossible at any age until 1954, when Roger Bannister proved otherwise. The race will feature Walker and a field of other runners, all thought capable of breaking 4 minutes. It will be televised live in New Zealand, and via tape delay in the U.S. and elsewhere. New Zealand Prime Minister Jim Bolger is expected to attend, as are Walker's special guests: Bannister, now 62; Steve Cram, 31, who holds the current Mile world record of 3:46.32; and former record holders Herb Elliott, 53; John Landy, 61; Peter Snell, 53; Jim Ryun, 44; and Filbert Bayi, 38.
The world Mile record for Masters men 40 and over belongs to Wilson Waigwa of Kenya, who ran 4:05.39 in 1989, four months after he turned 40.
''There's a big difference between 4:05 and 4:00,'' says Walker. ''Damn big difference. We're talking about 40 meters. I get amused when I hear about people taking five years off and expecting to come back and break 4 minutes. There's no way you can.''
Continue reading at: www.si.com/vault