Surf City Marathon Adds "Cowabunga Challenge" Mile on the Beach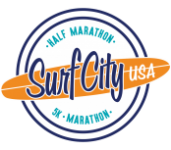 January 02, 2019
Enhanced weekend event experience includes inaugural Mile beach run on the sand on Saturday; Super Bowl Sunday weekend tradition in Huntington Beach set for February 1-3, 2019
HUNTINGTON BEACH, Calif. – It's a Super Bowl Sunday tradition unlike any other. The 2019 Surf City Marathon & Half Marathon will take place the weekend of February 1-3. Featuring an award-winning route that showcases the scenic Huntington Beach oceanfront, the race annually attracts more than 17,000 participants for one of largest beach parties of the year in Orange County.
New in 2019, event weekend will feature a Mile race on the beach. Dubbed as the "Cowabunga Challenge", the unique Mile on the sand will take place on Saturday, February 2 at 11:00am and is open to runners of all ages. Registration for the family friendly event is available online at: RunSurfCity.com
"Huntington Beach has a tremendous running community and 2019 is shaping up to be one of our best marathon weekends with more race distances offered than ever before," said Diane Malette, the event's marketing manager. "Our new Mile race on the sand is the perfect way to celebrate the Southern California fitness vibe. With race day quickly approaching, now is the perfect opportunity to lace up those running shoes and join us for one of the biggest weekends of the year at the beach."
The Surf City Marathon is a convenient destination event with the expo, start line and finish line festival all taking place just steps away from the sand. Race weekend kicks off with an Active Lifestyle Expo on Friday, February 1 from 1:00pm – 7:00pm and Saturday, February 2 from 10:00am – 4:00pm at the main Huntington Beach Parking Lot, across from Hilton Waterfront. The interactive expo will showcase vendors featuring the latest in running gear, nutrition and fitness apparel.
Sunday race day begins at 6:30am with the marathon, half-marathon and 5K. Runners enjoy one of the most scenic race courses in the United States with spectacular views along the route. Event weekend concludes with a finish line festival and "Sand Bar" beer garden on the beach. Each runner gets one free beer to celebrate their achievement with live entertainment before the big game on Sunday afternoon.
To register for the race or for more information, visit RunSurfCity.com or follow @RunSurfCityUSA on Instagram.