Taking a Road Less Traveled for Drew Hunter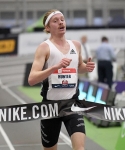 August 26, 2020
"I had setbacks, but my love for the sport of running hasn't changed. It's in a new light now and I don't take it for granted."
By Jeff Hollobaugh, Track & Field News
It was just over 4 years ago that Drew Hunter—a high school superstar with three sub-4:00s to his credit—shocked the running world by taking a pass on his Oregon commitment and instead signed with adidas.
Acknowledging at the time that it was "a different route than most people," Hunter was the first prep distance runner to go pro on the men's side.
Surely, there were some who expected him to fall on his face. It didn't happen; not even close. Working with Tom Schwartz, who guided his training during his senior year at Loudoun Valley High in Purcellville, Virginia, Hunter has flourished.
In 2017, what would have been his frosh campaign, he placed 11th at USATF and later clocked a PR 3:36.77 for 1500. The next year, an improvement to 3:35.90, 6th at USATF, and a season solid enough to rank him #2 among all Americans.
In 2019 came serious forays at longer distances: 29:37 at the USATF XC, then 8:25.89 to win the national indoor 2 Mile title. Outdoors he chopped almost half a minute off his 5000 best with a 13:21.18 at the Jordan Invitational and more than 10 seconds off his 3000 best with a 7:39.85 at Bislett. But a 13:29.19 for 5th at USATF Outdoors was his yearly finale. Likely there would have been more, but a foot injury shut the season down.
Reflecting on his decision to bypass the collegiate development system, he says, "It was definitely harder at first, but I think the path I chose is the right one for me. I've learned so much and grown as a person and an athlete. I don't look at the NCAA and think I missed out on anything. I think I created my own kind of cool story with my team in Boulder, so I'm pretty happy with how things are.
"There were definitely a lot of surprises. Early on in my career, I never got injured. The biggest thing since turning pro is that I've had some setbacks and things that took me away from running. But as far as goals, I still have gotten better every year.
"That's how I'm viewing the rest of my running career: just chipping away and trying to get better every day."
Now a veteran at a tender age—he turns 23 in September—Hunter doesn't flinch when asked if he's a better 1500-Mile guy or 5000 guy. "It's how our coach prepares us—let's be good at everything. I mean, yesterday in practice I ran a 1:50 800, just a smooth, negative split 1:50 in the middle of a workout.
Continue reading at: trackandfieldnews.com