Team Webb: Millrose Wanamaker Mile - What to Know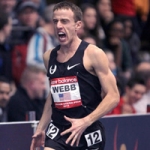 February 10, 2014
An excerpt from the Webb family's personal blog on Alan's last Track & Field race at the 2014 Millrose Games Wanamaker Mile.
By Team Webb
In just a few short days, it's hard for me to believe Alan will be boarding a plane to compete at what could be his last elite level race in the Mile. New York Road Runner was gracious to invite Alan to celebrate the end to his track career in a grand fashion by bringing him back to the Armory. The men's Wanamaker Mile is the highlight event, featuring a star studded field as always.
The Millrose Games have been going on since 1908, and continue to be one of the highlight events of competition during the indoor season. Their website boasts – more than 200 athletes share the distinction of being both Millrose and Olympic champions. The Mile itself has been a feature event since 1926. This website gives a depth in the history of its champions. Bernard Lagat has this thing wrapped up as Wanamaker all-time champ with 8 wins since 2001. Alan competed in 2005 (3rd – 4:00.91), 2007 (4th – 4:04.86).
Until 2 years ago, the meet was held at Madison Square Gardens which had a much smaller track at 11 laps per Mile (160 yards). The venue itself was enormous to make the track and field crowd seem sparse. As of 2012, the event was switched to the Armory to give athletes a better shot at faster times with a 200m track and a tighter crowd atmosphere to boost the runners mojo. This will be Alan's first Millrose at the Armory.
At the New Balance Games in 2001, in the Armory, Alan ran his first sub-4:00 Mile to break the boy's high school record in 3:59.86. He become the ONLY high schooler to run under 4 indoors. A guy who was there in the crowd and happened to get the race on tape recently sent me a link to the video he shot. Since he had no clue who Alan was or the significance of the barrier he was about to break, he didn't really focus the camera on the latter half of his race. Despite that, you can feel the energy and excitement of Ian Brooks announcing as the crowd was going crazy while Alan made history. Even the winner was distracted looking back to see if he did it.
Continue reading at: runteamwebb.wordpress.com