Teen Phenom Tuohy Looks Toward 2020 U.S. Olympic Trials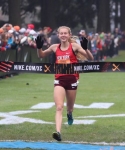 December 05, 2018
"Everything I do is impacted by that decision to want to make it to the Olympic Trials. That's definitely my big-picture goal for the future."
By Sarah Lorge Butler, Runner's World
She had just won a second consecutive Nike Cross Nationals title, received her trophy, done an interview on stage for a live webcast, peeled off her spikes, and zipped into her warmups.
Then Katelyn Tuohy, 16, came into the media area at Glendoveer Golf Course in Portland, Oregon. Fidgeting in front of a swaying backdrop, with a light shining directly on her forehead, she prepared for more cameras. More questions.
As she did her best to answer them, Brian Diglio, her coach from North Rockland High School in Thiells, New York, stood at the back of the room, watching.
Asked how he keeps his star runner's life sane, he answered: "I don't think anything about this is sane."
Tuohy's performances have made her worthy of the attention. A junior, she has dominated high school running for the past two years, winning her cross country races by astonishing margins. In September, she ran 16:06.87 for a 5K at a large invitational in Rhode Island, a time that would have put her ahead of all of the boys racing that day except for one. She ran a 4:56 opening Mile and finished more than 2 minutes ahead of second place.
In Portland at season's end, against many of the country's top runners, she ran 16:37.8. The runner-up, Kelsey Chmiel, a senior from Saratoga Springs, New York, was 17 seconds back, which is about 90 meters, but a narrow victory by Tuohy's standards. (The year before, Tuohy had beaten Chmiel by 40 seconds.)
Continue reading at: runnersworld.com