The best tonic for a hard workout or long run is an easy recovery run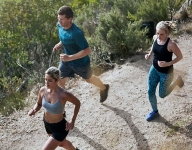 November 15, 2017
"Have fun. Don't worry or think about pace or effort. If you see some flowers, stop to smell them or hug a tree and then continue on your recovery run."
By Duncan Larkin, MotivRunning.com
It may seem counterintuitive that sometimes the best way to properly rest after a tough workout is to actually go for a run. Any type of hard stimulus inflicted to the body from an intense workout on the road or track can cause the legs to ache and the mind to feel burned out. Your natural instincts tell you that the day after this kind of workout should put spent putting your feet up and taking a zero in the running log. But that isn't necessarily the case. Often, what your body really needs is to go for an easy recovery run.
"Easy, lower intensity recovery running allows the body to both increase the rate of the removal of waste product in the aftermath of harder sessions," says coach Pete Rea of the ZAP Fitness foundation in Blowing Rock, N.C.
In other words, you need to get moving after you've run hard.
Pascal Dobert, an Olympic runner and now a conditioning coach for Nike's Bowerman Track Club, says recovery running also facilitates muscle repair.
"Whenever you exercise a muscle strenuously, either on the track or the gym, those muscles and tendons will develop micro tears and otherwise become irritated and inflamed, and an easy recovery run will work the muscles and muscle attachments (tendons) in a gentle and restorative way by increasing blood flow and muscle pliability," he says.
In addition to the physical benefits of a recovery run, there are also the mental bonuses. Doing tempo runs or track repeats where you need to hit certain splits requires intense mental concentration, and, without a chance to run at a slow pace, the stress of these workouts can take a toll on the mind, which may then lead to burnout.
Continue reading at: motivrunning.com