The Mile: America's Distance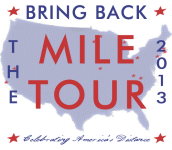 July 08, 2013
DC Road Runners 1 Mile, the 9th stop on the inaugural Bring Back the Mile Tour, set for Wednesday, July 24; also RRCA national championship
By Mary Doman, ActiveLifeDC.com
If you're still feeling patriotic after the 4th of July (or, feeling like you need to sweat off that extra slice of blueberry pie), I'd recommend you race a Mile at the DC Road Runners' upcoming One Mile Challenge. Because, after all, it's the most American distance there is.
According to Ryan Lamppa, founder of the Bring Back the Mile movement, the Mile is unique to our country and to our culture.
"Back in the late 1970s, when the world went metric, we Americans held on to the Mile," Lamppa said in an interview. "It's a standard that all Americans understand... it's part of who we are."
And he's promoting Mile road races around the country to help preserve the significant distance. You can support the cause by heading to the DC Road Runners club's One Mile Challenge in Ballston, on the evening of Wednesday, July 24. The event -- a tradition of the club's -- is supported by the RRCA (Road Runners Club of America). This year, it's also part of the inaugural Bring Back the Mile Tour, a series of races organized by BBTM to promote the "magical Mile."
So far, the tour covers 14 cities; Lamppa hopes that in coming years, even more cities will step on board to participate. Other races participating in the 2013 tour include The New Balance Indoor Grand Prix and the Millrose Games -- both of which hold lengthy history and significance within the running world.
By joining the BBTM Tour, "It's a huge honor to be in the company of such prestigious races," writes Brian Danza, president of the DC Road Runners.
Continued reading at: http://www.activelifedc.com