The Mile is just like High School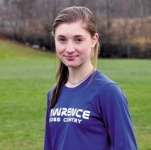 June 07, 2013
Lawrence High School valedictorian speech by Erzsebet Nagy, Maine Class A 800m, 1600, 3200m champion
Here we are, at the end of the four years that once seemed so daunting and infinite. I remember being so anxious for freshman year and thinking, "How am I going to survive the next four years of my life?" I now understand that thinking too far into the future is dangerously overwhelming. Looking back, I can see that the best strategy is not so different from the way I approach my favorite race, the Mile. This race, just like high school, is comprised of four parts, and each must be taken one at a time.
The first lap starts with the gun. The pack is a cluster of runners, blood pumping with adrenaline, all jockeying for position. Even among all this chaos, the goal of the first lap is to get out safe, creating your own rhythm and establishing yourself while avoiding any elbows thrown your way. Pay no attention to the speed of the other runners and settle into a pace fast enough to maintain but not burn out.
The first lap is over in the blink of an eye, and you should be settled into your own cadence by now. Lap number two requires more focus, but it doesn't really hurt yet. Although the first half of the race is just as long as the last half, it is much smoother sailing. I think that's why this second lap is the least memorable. It is without the anxiety of the first, yet lacking the inevitable pain of the final two.
Continue reading and watch the speech video at: http://me.milesplit.com