The Only Way She Knows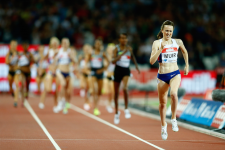 October 13, 2016
No woman ran the 1500m in 2016 as fast as Laura Muir. The British record holder tells SPIKES how she got to the top and why this is only the start.
By SPIKES
Laura Muir began running at school in Kinross, north of Edinburgh in Scotland, when she "was about 11 or 12-years-old". She hasn't stopped since.
"I'd been running in cross country races in school and really enjoying it," Muir, 23, tells SPIKES. "I wasn't necessarily winning them, but I think I came top ten in a few. I joined a local athletics club and went from there."
Yet running wasn't the only sport Muir was involved in growing up.
"I got involved in a few different things like kayaking and rock climbing in the summer," she says. She even got halfway to being a black belt in karate.
But around the age of 16 she began to focus.
"I just got the point where I wanted to go ahead with athletics, I enjoyed it a lot more."
Continue reading at: www.spikes.iaaf.org