The Unravelling of a Rare Talent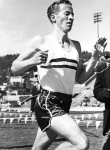 April 13, 2013
By Doug Robinson, Deseret News
Tim Danielson is one of the greatest high school athletes ever signed by BYU, although you've probably never heard of him.
In 1966, he became only the second high school Miler ever to run a sub four-minute Mile, just two years after Jim Ryun became the first to do it. Danielson clocked 3:59.4, the exact time that Roger Bannister achieved in 1954 to become the first man to break four minutes — a feat considered tantamount to landing on the moon. Decades later, Danielson remains one of only five prep Milers who have managed to break four minutes — the others: Marty Liquori in 1967, Alan Webb in 2001 and Luke Verzbicas in 2011, 45 years to the day after Danielson's run.
Virtually every university in the country pursued Danielson. A non-Mormon, he chose BYU, where he could train with coach Sherald James at high altitude, which is advantageous for endurance athletes. This was when miling and track enjoyed a certain popularity, and Danielson's feats created a buzz.
Continue reading at: deseretnews.com