The Unstoppable Star: Mikey Brannigan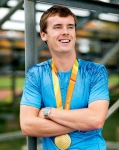 January 27, 2017
The first person with autism to break 4 minutes in the Mile shows no signs of stopping.
By John Hanc, Runner's World
He's been profiled on ESPN, on NBC News, and in the Wall Street Journal in the last year alone. But perhaps the apogee of Mikey Brannigan's career came in September, when he got his first fan letter. It was from a 13-year-old boy in Kentucky. In the letter, the boy said that he was trying to play baseball, despite "difficulties."
"I was moved and motivated to work hard," the boy wrote. "You are the perfect example of determination."
When asked how he felt about the letter, Brannigan, 20, smiles. "Like a professional athlete."
Brannigan was diagnosed with autism at 18 months, was nonverbal until age 5, and has a severe learning disability and a speech impediment. But as a runner, he is unstoppable. The six-time high school All-American has been attracting attention since he ran a 38:36 10K at age 12. In 2014, he became national champion in the 3200 meters after running 8:53.59. In 2015, he set a world record in the T20 (intellectual impairment) category when he ran 3:48.85 in the 1500 at the U.S. Paralympics Track & Field National Championships. And in August, he became the first person with autism to break 4 minutes in the Mile, when he ran 3:57.58 in Raleigh, North Carolina.
Continue reading at: www.runnersworld.com