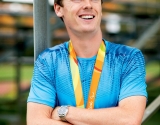 January 27, 2017
The first person with autism to break 4 minutes in the Mile shows no signs of stopping.
By John Hanc, Runner's World
He's been profiled on ESPN, on NBC News, and in the Wall Street Journal in the last year alone. But perhaps the apogee of Mikey Brannigan's career came in September, when he...
Read More
comments