Thousands run the Medway Mile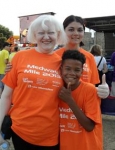 July 30, 2013
Festive 7th edition attracts runners, joggers and walkers
By Medway Messenger reporter
Thousands of people across the Towns put their best foot forward for the Medway Mile last Friday night.
Runners, joggers and walkers turned out in force for the Mile-long run from Boley Hill in Rochester, England.
Among them was Helen Jacob-Grant, 42, who less than one year ago was confined to a wheelchair and could barely stand.The mum-of-six turned her life around after having gastric bypass surgery and shedding 11st.
She then decided to sign up to the race along with daughter Angelica, 16, and her 12-year-old son Ivan.
Others who took part included Rochester Grammar School pupils Sally Booth and Alannah Duthie who ran a three-legged race.
Sally, 17, said: "It was just something different to do on our third Medway Mile. It is just such a nice event."
They were joined by classmates Gemma Bradford and Katie Mortley.
The annual fun run, first launched in 2007 in the countdown to the London Olympics, started with a mass warm up in the Castle Gardens.
The 7th edition included children's entertainment and races, a performance from cheerleaders GFC Gems and a firework display.
For more coverage including an event video, go to: www.kentonline.co.uk