Top line-up for Amba Hotels City of London Mile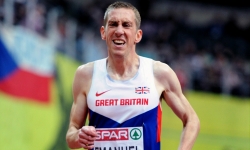 June 04, 2015
Lee Emanuel, Zoe Buckman lead the entries for the classic Mile distance on Sunday, June 14
From Athletics Weekly
Eight sub-four-minute Milers headline the elite fields for the Amba Hotels City of London Mile on June 14.
Lee Emanuel, who won silver in the 3000m at the European Indoor Championships in Prague in March, will be among the favourites at the second edition of the free-to-enter event, which is set to see thousands of all standards competing in the various races.
Emanuel, who has been training in New Mexico and will compete in the Sainsbury's Birmingham Grand Prix on Sunday, will be aiming to follow in the footsteps of last year's elite winners from Australia, Ryan Gregson and Genevieve LaCaze. His personal record for the Mile was set at 3:54.30 indoors.
The international challenge is headed by Brazil's Thiago Andre, who was fourth in last year's IAAF World Junior Championships and has clocked 3:35.90 for 1500m.
Continue reading at: www.athleticsweekly.com